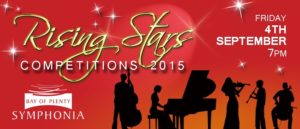 At Graham Young Youth Theatre, Tauranga
The finals concert of our biennial concerto and composition competitions for secondary school students.
Conducted by Justus Rozemond
Programme
Soomin Kim – Warmth of Passion (winner of composition competition)
Rising Stars concerto competition finalists:
Phoebe Cho (piano): Beethoven Concerto No. 3, 3rd movt
Jessie Colbert (double bass): Dittersdorf Concerto No. 2 in D, 1st movt
Soomin Kim (piano): Grieg Concerto in A minor Op. 16, 1st movt
Esther Lee (cello): Haydn Concerto No. 1 in C, Hob VIIb, 1st movt
Janet Reid (violin): Mendelssohn Concerto in E minor Op. 64, 1st movt
Andrew Robinson (clarinet): Weber Concerto No. 1 in F, 1st movt
Wienawski – Legende (guest soloist: Anna Lee, past winner)
Soomin Kim was the winning Rising Star of both the concerto and composition competitions 2015. Her composition 'Warmth of Passion' opened the concert and was received very enthusiastically by the audience. This piece is about the journey towards the achievement of one's dream and the exhilaration that results from its fulfilment. It embodies a variety of human emotions such as frustration and fear as well as courage, confidence and joy, which come to us every now and then as we strive and struggle to follow our own passion or purpose in life.
Soomin delivered a brilliant performance of the first movement of Grieg's Piano Concerto in A Minor to win the concerto competition.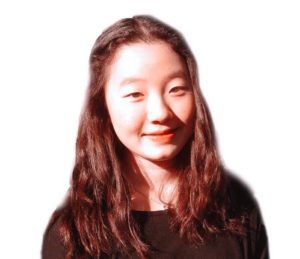 Andrew Robinson received the jury's special runner up prize for his outstanding playing of the first movement of Weber's Clarinet Concerto No. 1.