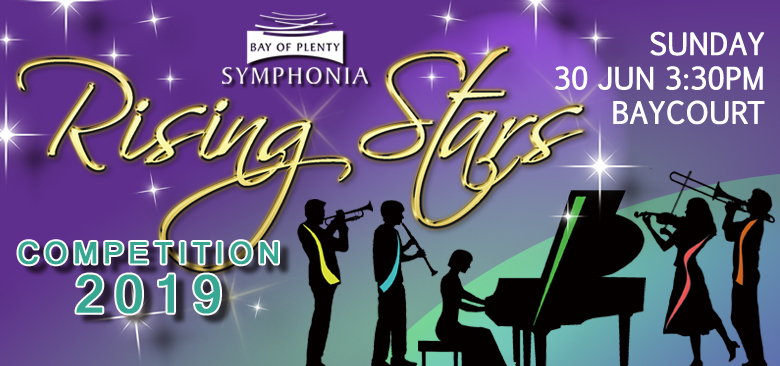 At Baycourt, Tauranga
The finals concert of our popular biennial concerto competition for 12-18 year old performers.
Conducted by Justus Rozemond.
Adjudicators: Peter Walls, Katherine Austin, John Ure.
Programme
Rising Stars concerto competition finalists:
Huang Yu Li (piano): Mozart – Concerto No 9 in E flat major, 1st movement
James Robinson (trumpet): Arutiunian – Concerto in A flat major, 1st movement
Leo Read (trombone): David – Concertino No.1 in G minor, 1st movement
Sumin Sarah Lee (violin): Mozart – Concerto No 3 in G major, 1st movement
Rosa Hook (violin): Mendelssohn – Concerto in E minor, 3rd movement
Hayden Butt (clarinet): Weber – Concerto No 2 in E flat minor, 2nd movement
Janáček – Adagio for Orchestra.
Prize winners
The winner was Leo Read for his spirited and confident performance of David's Concertino for trombone. Huang Yu Li (piano) was awarded the special jury prize for her sensitive playing of the Mozart concerto.
Photos by Jeanette Nee and Vivianne Baldwin
Winner Leo Read

Huang Yu Li

The Finalists