Our April concert features guest conductor Michael Joel and a surprise soloist in Chopin's romantic Piano Concerto No.2:12-year old pianist Shan Liu. Shan studies with Stephen de Pledge of Auckland University School of Music. He was the youngest ever finalist in the 2020 NZ National Junior Piano Competition and has already been successful in many other national and international competitions.
Other highlights will include the Kabelevsky Cello Concerto with its glorious, soaring melodies featuring soloist Lev Sivkov; and the romantic Strauss Oboe Concerto with soloist Robert Orr. The Family Concert will return with Prokoviev's much-loved Peter and the Wolf. Plenty to look forward to so we hope to see you at our concerts in 2022!
Please note that dates and programmes subject to change.
CONCERT 1: Gift of Music
Sunday 10 April, Baycourt Theatre, Tauranga
Guest Conductor: Michael Joel
Soloist: Pianist Shan Liu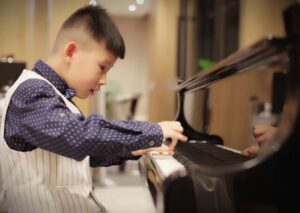 PROGRAMME:
Beethoven – Prometheus Overture
Chopin – Piano Concerto No.2
Schumann – Overture, Scherzo and Finale
Stravinsky – Danses Conertantes
CONCERT 2:
Sunday 10 July, Holy Trinity Church, Tauranga

PROGRAMME:
Haydn – Overture L'isla disabitata
Ritchie – Remember Parihaka
Kabalevsky – Cello Concerto no 1 Op 48; soloist Lev Sivkov
Revueltas – Ocho por radio
Saint Saens – Symphony 2
CONCERT 3: Family concert
Sunday 4 September (Two short afternoon concerts, time TBC), Holy Trinity Church, Tauranga

PROGRAMME:
Stravinsky – Overture to Pulcinella suite
Prokofiev – Peter and the Wolf; narrator Jeremy Hantler
Bizet – Toreador from Carmen
Copland – Excerpts from 'Appalachian Spring'
CONCERT 4:
Sunday 20 November, Tauranga, venue TBC

PROGRAMME:
Lilburn – Drysdale Overture
Strauss – Oboe concerto; soloist Robert Orr
Schubert – Symphony 9