Originally from the Netherlands, Justus has been the music director of Bay of Plenty Symphonia since 2012.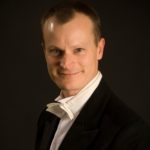 During that time he has also conducted the Trust Waikato Symphony Orchestra, St Matthews Chamber Orchestra in Auckland and the Taranaki Symphony Orchestra. In 2016, he founded the Youth Philharmonic Tauranga to encourage orchestral playing among the younger generation in town.
Prior to taking up this position, Justus was active in Wellington music circles as a conductor of ensembles, orchestras and operas. He is committed to fostering New Zealand composers and has performed numerous premieres of NZ works, often on National Radio.
Justus is also an accomplished performer: he plays clarinet with Opus Orchestra and is a founding member of the Rata Trio. He plays violin and viola and is also working on the French horn.