Rising Stars Competitions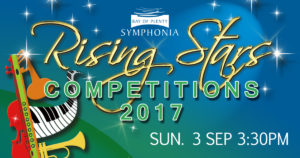 Sunday 3rd September, Graham Young Youth Theatre, Tauranga
Our popular biennial competitions for talented secondary level performers and composers. Read more.
Russian Rendezvous

Saturday 18th November, New Plymouth and Sunday 26th November, Baycourt, Tauranga
We join forces with the Taranaki Symphony Orchestra and Italian pianist Flavio Villani. Read more.