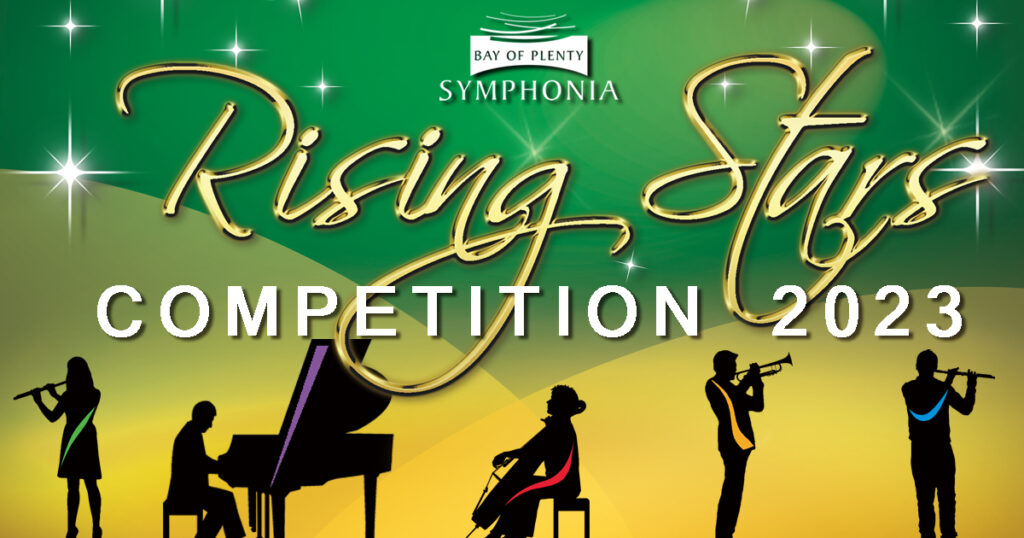 Conductor: Justus Rozemond
Sunday 27 August 2023, 3.30pm Baycourt Theatre
Bay of Plenty Symphonia is delighted to announce the five young musicians who will perform with the Bay's community orchestra in this year's popular Rising Stars Concerto Competition. The contestants are 12-18 year old classical instrumental musicians from around the Bay of Plenty, who relish the opportunity to perform solo with a live orchestra – as well as the chance to be acclaimed as winner of the Rising Star title. The winning Composition Competition entry will also be performed, Taking to the Skies by Elodie Broad.
The Symphonia's Rising Stars concerts have taken place every 2 years since 2009 and have secured a special place in the calendars of the Bay's classical music lovers, young musicians and their teachers. As a member of the audience said after 2019's event, 'I really enjoy seeing and listening to the young musicians up on stage with their chance to play with a symphony orchestra. Such talent! An amazing concert!'. Many past contestants have gone on to pursue a career in music.
The contestants' performances will be judged by acclaimed violinst Andrew Beer and CEO of Orchestras Central, Catherine Gibson, who will deliberate the winner while the orchestra performs the last movement of Beethoven's Fifth Symphony. After the winner is announced, the afternoon will conclude with the presentation of prizes.  
Download programme book here.
Finalists
Sienna Tang – Flute
Ned Shaw – Trumpet
Enoch Tie – Flute
Pachakamac Lema – Cello
David Jiang – Piano
Programme
Taking to the Skies – Elodie Broad (winning composition competition entry)
Flute Concerto No.2 in D minor, Op.31, Third movement – Danzi (soloist Sienna Tang)
Trumpet Concerto in F minor, First movement – Boehme (soloist Ned Shaw)
Flute Concerto in G Major, QV5-174, First movement – Quantz (soloist Enoch Tie)
Cello Concerto in C, Second movement – Haydn (soloist Pachakamac Lema)
Piano Concerto No.1, First movement – Beethoven (soloist David Jiang)
Symphony No.5, Last movement – Beethoven
The Jury
We are proud to announce that the jury comprises respected violinist Andrew Beer, and CEO of Orchestras Central, Catherine Gibson.

Supporters