Conducted by Justus Rozemond and Adam Jasinski with piano soloist Flavio Vellani
Saturday 18th November, New Plymouth and Sunday 26th November, Baycourt, Tauranga
Duration 2 hours approx.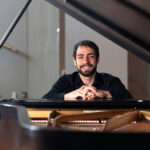 We join forces with the Taranaki Symphony Orchestra and Italian pianist Flavio Villani for an all-Russian programme.
Flavio Vellani
Flavio is founder and Artistic Director of the St Heliers Music Centre in Auckland where he teaches piano. He has performed widely as a soloist as well as in various chamber groups, playing in festivals including the Venice Biennale and others in Italy, Spain and New Zealand. He was featured in the documentary 'Crossing Rachmaninoff' which had its nationwide release in NZ in 2016 and has been shown around the world. He is member and founder of the Villani Piano Quartet which had its debut in Auckland in 2015 and has toured extensively with Chamber Music New Zealand.
Programme
Prokofiev: The Birth of Kije
Tchaikovsky: Piano Concerto no. 1
Rachmaninov: Symphony no. 2
Tickets
Ticketing information available soon.