Justus has been the music director of the Symphonia since 2012.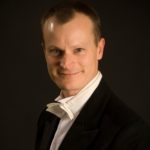 Prior to taking up this position, Justus was active as a conductor in the Wellington area where he performed with his own AHEM! ensemble and other orchestras. As the conductor of contemporary music groups GateSeven and the SMP ensemble, and as a conductor at the CANZ yearly composer workshop, he has premiered numerous NZ works. These performances are frequently heard on Radio NZ. At that time, he conducted NIMBY opera, with which he performed for the first time in Tauranga while on tour.
Since moving to Tauranga, Justus has conducted the St. Matthew's Chamber Music Orchestra in Auckland. In 2016, he founded the Youth Philharmonic Tauranga to encourage orchestral playing among the younger generation in town.
Justus is also an accomplished performer on the clarinet, specialising in bass and contrabass clarinet. He has played with Opus orchestra since 2013, and can also be heard regularly playing chamber music in the region. He also plays violin and viola in the Animato String Quartet and is working on his French horn skills.