Conducted by Justus Rozemond with special soloists
Sunday 3rd September 2017, 3:30pm at Graham Young Youth Theatre, Tauranga Boys' College
Duration 2 hours approx.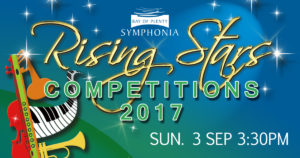 The finals concert of our popular biennial competitions for talented secondary school level performers and composers.  The concert will feature performances by the six finalists in the Rising Stars Concerto Competition.  The orchestra will also perform the winning Rising Stars composition.
The concert will conclude with the presentation of prizes by the Mayor of Tauranga, Mr Greg Brownless.
Our performers
Rosa Hook (Rotorua): Wieniawski's Violin Concerto no. 2
Loredana Kint (Tauranga): Mozart's Flute Concerto no. 2
Elliott Lee (Tauranga): David's Concertino for Trombone
Mei Hei Luk (Tauranga): Chopin's Piano Concerto no. 1
Leo Read (Taneatua): Bourgeois's Concerto for Trombone
James Robinson (Tauranga): Haydn's Trumpet Concerto
Shamus Baker from Rotorua is the winner of this year's Rising Stars Composition Competition. The orchestra will perform his piece 'Skylines'.
While the adjudicators consider their verdict, the audience will be entertained by pianist Soomin Kim, winner of the 2015 Rising Stars Concerto Competition.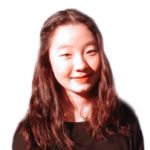 Tickets
$25 Adult; $22 Senior; $21 Members and Friends of BOPS; $5 for 18yrs and under. Book now!
Online: iTicket
By phone: 0508 iTICKET (service fee applies)
In person: i-SITE, 95 Willow Street, Tauranga
Transaction fees apply for credit card and online banking payments.
Supporters
Rising Stars 2017 is generously supported by:
Omokoroa and Bethlehem Church Community Centre
FAME Trust